About
Specs
Changelog
Share
You'll need more than a 'Molotov'... Brand new realistic skin for the Tank Includes new grotesque exposed spine, more blood stains, drips and splatters, desaturated skin tone, plenty of flesh and gore on the back, and a wet shine all over, perfect for the VALVe Campaign, 'Hard Rain'...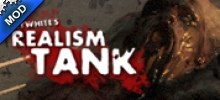 File:
realism pack [tank].vpk
Last Updated:
05/13/12
Version:
0.1 (Complete)
Views:
27,211
Be the first person to provide a video for this add-on!
More addons by NuclearEngagement