About
Specs
Changelog
Reviews (0)
Model: PappasKurtz/Valve Sounds: Mateoski/SpyBreak001/Mr.Saint Textures: K1CHWA This skin has a golden finish to it with a 'Mateoski Special' engraving on it. K1CHWA, you are one badass.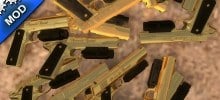 Last Updated:
05/13/12
Version:
1 (Complete)
Views:
6,113
Videos for Gold 1911's (Dull)
Be the first person to provide a video for this add-on!
More addons by Mateoski