A reskin of ImBrokeRU's SCAR-H, originally ported to L4D2 by Arby26, featuring a C.E.L.L-style hex urban camo. Replaces the AK-47. Features an EOTech sight, magnifier, flashlight, icon and the same soundset as Arby's original port. Credits: ImBrokeRU - Models/UVs, VMTs Crash - Base Textures Zir - VMTs Arby26 - Animations/Compiling/Flashlight Model Teh Strelok - Sounds black-light-studio - Camo pattern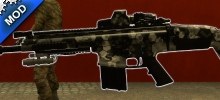 Author:
Kainzorus Prime/Arby26
Last Updated:
02/25/13
Version:
1.0 (Complete)
Videos for SCAR-H - C.E.L.L Camo
Be the first person to provide a video for this add-on!
Share SCAR-H - C.E.L.L Camo
More addons by Kainzorus Prime