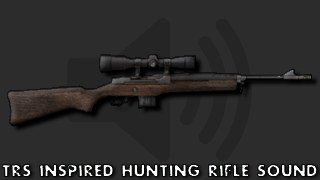 TRS Inspired Hunting Rifle Sound
You are downloading as a guest.
The extended gallery contains images from all community members.
(TRS Inspired because it's not the EXACT original they used but it's very very damn close)

So after Saibot's discovery of where one instance of the original Hunting Rifle firing sound was located (Metal Gear Solid - Twin Snakes) I decided to give it a download to see for myself. Sure enough it was close to the original but

 the sound quality was horrible and distorted due to Saibot recording the sound in-game and then moving to heavy editing in Audacity so I decided to go hunting for the sound myself.

After a week of pulling my hair out trying to figure out how to unpack the sound stream from the game and convert it from an .spd stream format to a more readable one I finally figured it out with a bit of help from an old forum and was able to extract the sound in all its high quality beauty. Though the sound was very close it had a whistling bit inside of it that was assumed to have been removed by TRS so I removed it myself and altered the speed of the beginning sound a bit so it more closely matched with the 2007 Warehouse Direct Feed footage we have. Wam bam, here we are and I may be one of the first to do this so w00t!

Because I don't believe in using .vpk's for Left 4 Dead 1 outside of custom campaigns the included file will be in a standard .zip for you to extract and simple throw it in your mod folder of choice. Inside you will find what I call my "final" version of the sound which is what I'm using currently and will be using from here on out unless the original sound emerges, the original unedited sound taken directly from Metal Gear Solid, another version of the sound without the whistle for anyone who want to edit it themselves but don't want to deal with removing it, and finally a bonus variant taken from the game Carnivores from 1998 in all its low-quality glory for anyone interested.

Finally, anyone is welcome to do what they want with the sounds including editing them further. I will not be asking for credit or for you to seek my permission in using it in any modpacks or other mods. Use the sound, have fun with it, and rest easy knowing we finally have the sound or at least very damn close to it.
06/29/19
========

Initial Release.
File Details
TRS Inspired Hunt...
(384.7 KB)
View Changelog
Version 1.0 Complete