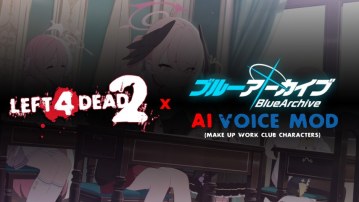 Blue Archive AI Voice Mod - Make-Up Work Club
You are downloading as a guest.
The extended gallery contains images from all community members.
Full AI voice mod for the 4 main survivors of Left 4 Dead 2, using characters from Blue Archive:
Azusa as Nick
Mika as Coach
Koharu as Ellis
Hifumi as Rochelle

This mod has more than 11,000 sound files, covering every single voice line for these characters. Except for a few dozen, each voice you hear is made by an AI.



Credits and details about the AI


This mod was inspired and based on the work of SayaSS's TTS model for Blue Archive characters, which at the same time is based on VITS by Jaehyeon Kim, Jungil Kong, and Juhee Son.

This mod couldn't be possible without their contribution. I'm very thankful to them as they provided all the tools needed to make this happen. All credits go for them, really. As for my work, this required many steps, from cleaning and preparing the quotes, to training and using the AI model to generate the voices, all with many small programs of my own. Check my guide on steam for more details.
If you have more inquiries, please contact on my Steam profile. I'm a programmer, so you can additionally contact me about my professional services.


Modification Instructions
The following instructions may require you to modify or replace core game files. Follow the instructions below to complete the installation process. It is recommended to backup files before editing in case the modification conflicts or fails to run properly.
Time to complete

15 Minutes
1. Unzip the mod file onto the root of your game's folder.  You should end up with a  folder named "makeup_voice_mod" in your addons folder.
2. Open the text file in left4dead2\gameinfo.txt.
3. Add "Game				left4dead2\addons\makeup_voice_mod" at the top of your search paths. It should look something like  one of the screenshots above.

You can easily access the game's folder by going to your Steam library -> right click on the game inside the list -> Manage -> Browse local files.

If the mod is still not working, you might generate the sound cache. Follow these steps:
1. Enable the Developer Console from the Keyboard/Mouse option menu.
2. Open the console with the ~ key.
3. Enter this command: "snd_buildsoundcachefordirectory addons\makeup_voice_mod"

The game will freeze for a few minutes. Wait until the console appears again. In oder to test the mod quickly, enter this command: 
"play player\survivor\voice\coach\adrenaline01"

You should hear Mika's voice. If not, restart the game and try again, or make sure you did the previous steps correctly.
02/26/23
========

All 3 characters from the Make-Up Work Club and Mika were added.
I LOVE IT BUT...

I adore this Voice Mod! It accurately matches the subtitles, and the voices seamlessly blend in as if they were originally part of the game. However, there is room for improvement when it comes to death screams; they shouldn't simply utter their lines but rather scream in a more realistic manner. Despite this minor drawback, I still thoroughly enjoy the mod and appreciate its potential for further enhancements.
File Details
Blue Archive AI V...
(1.9 GB)
View Instructions
Core Mod - 15 Min
View Changelog
Version 1.0 Complete