Nam Vet Bill (T-shirt version)
About
Specs
Changelog
Reviews (5)
Reskin for arby26's Survivalist Bill, inconsistent camo/clothing implies they were gathered from some random military surplus stores. Comes with complete set of custom VGUI. Credits: arby26 for the original model and textures.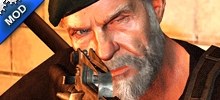 Last Updated:
03/06/12
Version:
1.2 (Complete)
Views:
37,073
Videos for Nam Vet Bill (T-shirt version)
Be the first person to provide a video for this add-on!
Share Nam Vet Bill (T-shirt version)
More addons by miztaegg