About
Specs
Changelog
Share
Machine gun dismemberment, refillable ammunition, plus 1000 ammo for all assault rifles, why not? Change made on the ammunition type of every assault rifles (AK47, M16, SCAR, SG552) with machine gun ammunition type, damage to SI aren't changed. Only one shot one kill CI with body dismemberment.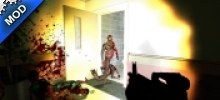 File:
super_assault_rifles.vpk
Last Updated:
01/23/12
Version:
0.1 (Complete)
Views:
11,153
Be the first person to provide a video for this add-on!