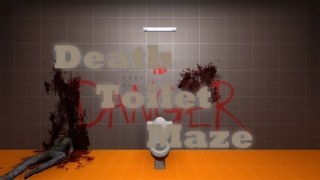 Death Toilet Maze
You are downloading as a guest.
The extended gallery contains images from all community members.
This addon is playable in L4D2.

WARNING: This campaign might be difficult/frustrating.

The survivors were just trying to use the toilet but something went horribly wrong. The survivors were flushed into a world of constant challenges. Now they

 must complete these challenges to hopefully be free of this smelly world.

Please read the top section of the changelog before reporting any problems in the campaign.

You may experience low frame rates when playing Turret Defense.

NOTE: This page on GameMaps is the single place that I have uploaded this campaign. Any other place where this addon is found, on this site or any other, has not been uploaded by me.
-Every time you start one of these maps there will be a window which states the map is unplayable. Ignore the message and click continue, the map will still play normally. This message is displayed because the AI navigation of the map is not directly connected in some places.

04/01/12

Pros:

-Maze and puzzles
-Funny moments
-Challenging (ish)
-Fun finale
-Creative

Cons:

-Some puzzles need to be more clear (eg glow when something is pressed)
-Map 4 is stupid
-Map 5 and picking the wrong door means instant death

Conclusion:

Map 2 I think, the numbers when pressed need to glow or something, so many times I don't know whether I pressed something or not and was stuck there for a while.

Map 4 was just a rage quit moment after many attempts. First off who's idea was it to spawn commons and SI around map 4 at the start area, it's extremely aggravating when you can't aim at anything while in 3rd person view.

The area with the colours and jumping on the wrong ones mean death. Super annoying especially when you know which ones to go onto BUT STILL DIE trying to jump over them. Not to mention SI there is also a stupid idea.

Map 5 in door 8, picking the wrong one means instant death when it's totally not obvious. Which is FINE if it's like door 1 and the first one we did. Restarting and then doing all 8 again is annoying.

Fun finale though, but I can't see it being beaten on advanced or above since there's moments with 2 tanks + horde.
File Details
deathtoiletmaze v...
(31.7 MB)
View Changelog
Version 1.5 Complete