Reviews for Precinct 84 (L4D1)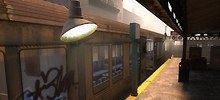 Great map!

Amazing work! Interesting details and surprises through the game, and i really like the wy you made the end.Props to the creator,Great job!

Pros:

-Nice level design
-realistic post-apocalyptic  levels 
-mainly scavenge for supplies
-good AI navigation
-bots are fine 
-custom stuff
-good panic events
-perfect lenght 
-looks just like one of those official campaings

Cons:

-too many tanks( 2/3 on chapter 2 and chapter 3)
-special infected spawn too close to survivors


Conclusion:

We played this campaign on expert and we couldn't beat but we will eventually. Level design is perfect for me.I like the idea of searching buildings near the road, rather than find supplies on the road. Special infected may spawn too close to survivors , I have witnessed spawning of tank,hunter,witch right in front my face. I don't recommend playing this on expert because it's very challenging.Why? Because in panic events is horde + tank at the same time and eventually you will find 1 or 2( if you're lucky) tank per chapter which makes it hard. It's good campaign and really fun if you play on Advanced or lower difficulties.

Pros:

Pretty much copy-paste from my review for L4D2 version:

"Very enjoyable map layout
Length of campaign is just fine - not too short and not too long"
"Very cool finale - despite that I personally hate scavenge finales, I really enjoyed playing it especially that it is much better than rest of campaign"

Cons:

Like wise.

"Déjà vu on 1st map - highly resembles No Mercy to me
Dumb placement of weapons (shitload of them just before points of no return) and alarmed cars
I wonder why horde attacked after leaving train on 2nd level" – actually, now I'm not as I heard police sirens which could cause an horde attack – still, Tank isn't necessary there
"ONE weapon pickup in finale (looks like someone forgot that when Tank kills Survivor, weapon also gets punched and flies couple of feet away - good luck with finding it)" – well, L4D1 version doesn't have any
"Didn't like ventilation shafts - I was just waiting for Spitter or Charger to f♥♥k me up" – while there wasn't any Spitters or Chargers, I still didn't feel much comfortable in vent shafts, too much "Half-Life'ish" for me

Conclusion:

Overall, though, it felt much better than L4D2 version – I'm guessing it's because I wasn't running out of shotgun ammo every 5 minutes and even with limping from gunshop with bleed-out 1 HP and later Tank in saferoom I managed to successfully pass campaign, so it doesn't appear as a fail in my opinion :D

Pros:

daylight

nice enviornments

clearly you spent some time on this

AI nav was pretty good

replayable

nice difficulty level

enviornments seemed connected and flowed well

goes from day to night as your progress through the campaign

Cons:

some of the audio was out of place. Example: we were in the laundry mat by the "open at your own risk" door and bill out of nowhere said "sailboat francis. saaaail boat" needless to say we were confused
--------------------------------------------------------------------
the manhole in the sewer as said by Amp did block the horde but somehow the specials could still attack?
---------------------------------------------------------------
Not sure if this is your fault or the AI directors but we had 3 tanks on the train level one shortly after the other...
----------------------------------------------------------------
scavenge finale...idk I just never really liked those. especially on expert
----------------------------------------------------------------
clearly stolen final voice from dead-air (ohh well no biggie)
----------------------------------------------------------------
sometimes the tank sounds would stay in areas after we killed him
----------------------------------------------------------------
no fuel tank count

Conclusion:

Honestly I really enjoy this campaign. Its challenging and fun for multiple playthroughs. sure there are some bugs but certainly nothing game-breaking. I would reccomend at the very least a playthrough.

Pros:

====== In general ======
+ Campaign set in daylight.
+ Buildings next to the rails are open for zombies.
+ Perfect impression on downtown style.
+ Maps felt connected with each other.
+ Music event in the night club was epic.
+ Supplies are spread very well.
+ Police station of the finale was designed fairly well.
+ Campaigns difficulty is not to underestimate.
+ Hardly any bugs or glitches.
+ Finale rescue task by filling up the car was genius.
+ Absolutely fantastic AI navigation.


Cons:

====== Map 1 ======
- Sewer cover was blocking horde events.
=================

====== Map 2 ======
- AI mate Zoey always got stuck near the ladder of the sewer.
=================

====== Map 3 ======
- Tank went through the ventilation shaft and got stuck.
=================

====== Map 4 = finale ======
- No displaying of how many fuel tanks are required to complete the task.
======================

Conclusion:

I have actually already played this campaign, but I have decided to play it again and to write a Critic Review. Well there is not much negative to say about it, because all in all this campaign was epic. Looking forward to see some more of your ideas.

*Con of map 1 (-0.2)
*Con of map 2 (-0.2)
*Con of map 3 (-0.1)
=============
*Score of 9.5 points.


Pros:

-Amazingly thorough! Such detailed maps.
-Cute easter eggs!
-I've played this map multiple times, but I still found new places to explore this time around!
-There is just so much greatness I've forgotten it all.
-There isn't too much of a guiding presence with the arrows, allowing the players to explore on their own, and eventually find their own way while still enjoying the scenery.

Cons:

- In the nightclub level, the nightclub itself still has the tank sounds behind the curtain, but a tank is not released anymore!
-It is easy for a team to fail if they separate for even a moment on the last level.

Conclusion:

This was a MASTERFULLY crafted map. I adore all of the minute details put into this map, especially the ones in the precinct, at the end of the nightclub level and at the beginning of the last level. This is easily one of my favorite maps. It is absolutely amazing. I also enjoy how you turned the scavenger hunt from L4D2 into L4D1. Marvelous! This is just such a great campaign. I reccomend it to everyone!!!

Pros:

+Looks Nice
+Feels like an actual L4D map
+Pretty difficult

Cons:

-None that I can think of

Conclusion:

I cannot really think of anything wrong with this map. Maybe, like others have said, add a title card at the beginning of the campaign.

Pros:

-Survivor dialogue.
-Safe Room and Intro music.
-Wide environment.
-Bot navigation satisfactory.
-Explosive Barrels.
-Custom Ammo Dump models.
-Custom sounds.
-Ice Cream Truck as a substitute Alarm Car.
-Various props such as a microphone and jukebox.
-Alternate paths.
-Scavenge Finale (In L4D).
-Scripted dialogue used to indicate how much Fuel has been deposited (as the interface can't normally be programmed for Scavenge play).
-Spectacular ending!

Cons:

-A little easy to get lost.
-Doors that require focus to open have Tank noises, even though no Tank appears (may be due to The Sacrifice's programming).
-Seeing as how there's a gun shop with Tier 2 Weapons in them early Map 2, the purpose of the one that emphasizes danger (the one near the start of the map) may be defeated.
-Tier 2 Weapons could wait a little longer in Map 2.
-Could use a few more Health Kit spawns scattered around the Maps (especially Map 3).
-Bots have trouble going down the manhole in Map 2 (on the street towards the sewers).
-Bots can easily get hurt by the fireplace in the house in Map 2.
-Easy to get lost in the sewers of Map 2.
-Tank music doesn't play in Map 3.
-Could use even more possible Pain Pill or Health Kit spawns in Map 3.
-I got really lost in Map 3 (in the tunnel, next to the police department). It wasn't very clear that I was supposed to shoot those black fuel tanks.
-Could use text messages for Crescendo Events (and for the Finale, just for those who haven't played L4D2).
-Huge stockpile at the start of Map 4 should be moved towards Finale area (at least, for the Health Kits).
-Should have a set of Health Kits and Weapons at the Gas Station in the Finale (perhaps inside the convenience store or near the Police Cruiser to be sure).

Conclusion:

A massive, massive campaign with lots of perks. It can get a little difficult and confusing in some paths though.

Pros:

This was the first add-on I ever downloaded and let me say I was not disappointed.
I love the environment
There is good placement of guns, mollys, and pipebombs
The starting house is fun, almost like No Mercy.

Cons:

There was one small cosmetic detail I found, it really doesn't matter. In the gunshop the hinge for the door is on the wrong side.

Conclusion:

I love this map I recommend it to everyone who is looking for a good L4D1 Campaign.

Pros:

The moving (or my perspective) subway train in the beginning

The campaign feels like Crash Course

Subway was interesting enough

L4D2 one...well pretty much the same but with more fixes 

Dead Center like finale.

Cons:

Dark areas

Didn't know where the alarmed cars

No gas counter (not a con though,well,thats L4D1)

Gas cans too hard to get,at least you could texture them in a different way

Tank spawns are too dangerous in the second level,which a tank on the roof knocked me off the roof,PLUS two tanks were on the roof.After I killed one,the second one spawned.But that might be the AI director being cruel on Advanced too.

In L4D2,Spitters can spit through and fall through the subway vents,blocking the way.

Quitted playing the map after the second map.

Police car can knock down the barricade but can't move on without fuel?Pfft.





Conclusion:

Not the best map,but who can complain about it.Since its worked on it,cannot say anything.But I say it should be improved.Well,at least a little bit.

Pros:

Vocal interactions in the environment.
Took time to create City.
Technical work is high.

Cons:

Poor level design.
Every level is too long or large to a fault.
Pacing is bad on every level but last.
No clear paths or direction.



Conclusion:

This is a great disappointment. From all the reviews I was expecting something well throughout but it's not. There seem to be a lot of tactical knowhow but didn't take the time to focus of the fundamentals of level design. The player shouldn't get lost so much. The levels are way too long, they need to be broken up. This campaign should be 7 maps or cut drastically. Levels attempt to have multiple paths but because there is no clear direction of where you're going to begin with players are just lost.  There other problems that I can mention, like wood that takes many clips of ammo to get out of your way, but this is getting long.
The finale is a scavenge map. It works but I can't say it's successful.

The campaign is "Percent 84", but it's only the last map and it's not that interesting. If you're going to name a location in the title the majority of the campaign should reflect that. Like "No Mercy"
I think what ultimately hurts this campaign is it feels like a port from L4D2. 

This reminds me of the first release of "Dead Before Dawn."  
Like "Dead Before Dawn" it needs the creator to be willing to change. Levels need to be trimmed/cut  and path/goals need to be defined. 

I feel that this campaign was just thrown out. Its a early Beta thats listed Final

Pros:

- Characters engage with the world around them (though Bill saying 'sailboat' confuses me still)
- Decent placement of throwables
- Items and events in tucked away spots provide a nice danger/reward balance for explorative players

Map 1
- Ice cream van is a creative change from the typical alarmed car we usually see in campaigns

Map 2
-This is my favourite. The laundromat, the cops paying subtle homage to Max Payne's rooftop moments while burning death drops onto tanks…

Cons:

- Once you know about the less rewarding of the tucked away spots, you'll know to avoid them; still, they're neat traps for anyone new to the campaign and adds depth to the work

Map 2
-Rare Spawn Glitch - SI can spawn in strange places they can't move, eg, between the building and the stairwell up to the train platform.

Map 3
- Now seems to have three or so ammo stashes, a few of which appear redundantly close to each other (conversely, the ammo pile at the bar is now removed, like in the L4D2 version).
-SPELLING: A sign says Chicago TEd's Guns. TEd, not Ted? Am I missing something with the TE?

Finale
- Unusual Nav glitch? Bots can get stuck on the Howitzer somehow when trying to retreat for the rescue

Conclusion:

What can I say? This is one of the campaigns I'd miss if I got stuck with the Xbox version.

Pros:

Well designed and looks very good
Nice to see some daylight in L4D1!
Also nice to see the use of L4D2 elements
Tasks are more inventive than most

Cons:

The maps are not vey well balanced

Conclusion:

The only real problem is one of balance. The third map (Nightclub) is way too long and is quite tough, especially when the Tank spawns in the club and you still have CI to deal with. There are not enough health packs to get through this map when playing SP Advanced. Now, I've only played this in single player so far and Advanced setting was pretty much undoable on this map (OK on the others). I'll play it online and amend my review as necessary, but I would suggest that this map should have been split in two. As for the Finale -- well, after the onslaught of Nightclub the Finale seems almost like a walk in the park!

This review was posted before the latest release.

Pros:

(Updated review)

- Very well detailled.
- Realistic environment.
- Totally unique finale (police car, scavenge, etc.)
- This is a L4D1 campaign that uses a lot of models and materials from L4D2.
- Many custom textures (graffitis, posters, etc.)
- Daylight (too many L4D1 nighttime campaigns)
- Various and fitting survivor dialogues.
- Unique events.

Cons:

- Tanks.
- The finale is still not perfect, but I guess it's impossible to do better.

Conclusion:

So what's wrong with the Tanks? I didn't have that issue in the previous versions, so I guess something went wrong. During the 3 first chapters, I've fought at least 3 Tanks per map. And in the Finale, apart from the one hidden in the police station, none! It's weird, I don't know if that's my computer or something else.

Otherwise, a very well-made campaign. Try it as soon as you can.

This review was posted before the latest release.

Pros:

Unique interactions in the environment.
Looks Great.
Technical work is high.

Cons:

Every level is too long or large.
Pacing is bad on every level but last.
Unclear paths and direction.
Things in environment don't make sense.

Conclusion:

First people are going to say why is the score low, I put a higher standard in a product that is Finished. There are lots of things wrong. Some texture errors or just strange. The pacing is terrible, problems with the level design. You will get lost because things are not marked or clear or just plain hidden. I do like long levels but this just too much.
 
Example:
On the 3rd level there is a misuse of the safe room marker not once but two times.
Path is obscured by a wall, then by three small boards that look like you could crouch to get through.  It took a bomb and several shotgun blasts to get through. A Bomb, could not take out three little boards! 
 
A lot the construction is in the realm of "this would be neat" but not logical in the real world. The story threats are strange, including the ending. 
 
It's called Percent 84, it's only in it for a blink. This looks and plays like very polished Beta. 

This review was posted before the latest release.

Pros:

* Atmosphere and setting are done with outright astonishing attention to detail; second to none. Going into the quarantined apartments actually had me freaked out (particularly so soon after the car chase panic event); that's never happened to me before. The elevated train is absolutely beautiful. The underground tunnels give me shivers just thinking about them. Wonderfully done.
* Supplies layout is just fine - no major issues one way or the other.
* Some of the most creative panic and crescendo events I've ever seen, and the lead-in to the finale is very impressive.
* Implementing a Scavenge finale in L4D1 takes some real creativity, and this is to be applauded... despite the setbacks therein.

Cons:

* Ostensibly there's a Tank in the nightclub, but I've never actually seen him or had to fight him. I count this among my blessings as I utterly loathe tank+horde events, but this is definitely a bug.
* Progress after the nightclub is a bit awkward. Took a while to realize that the boarded-up doors were the way to go, and took even longer to get those boards out of the way.
* The individual maps are a tad long by themselves. I'd suggest rearranging saferooms so as to make it into a five-map campaign, rather than four.
* I'm not a big fan of crawling through vents and the oh-the-vent-just-fell-apart cliche, but, meh, that's just me. Well implemented, though!

Finally... the finale. Oh dear G-d almighty, the finale. This deserves a Cons section all its own:
* No gas can counter, so you don't know how far you've progressed. This is, however, probably unavoidable. :(
* There's already a horde equivalent of infected present when you first show up in the area, and hordes continuously respawn with zero "periods of calm" (which you normally see in Scavenge finales in L4D2) unless and until a Tank shows up.
* Speaking of, those Tanks are ridiculously easy in this map because of all the open space - indeed, when you hear a Tank, it's blessed relief, because that's when it's calm enough for you to get cans transported. One should never be *relieved* and *grateful* to hear a Tank coming!
* The gas cans are placed much, MUCH too far away (and only one at a time each time).
* Worse - far worse - you can't gather 'em in stages (grab one, toss it closer, grab another, toss it closer, repeat until able to fill things up) as they'll ultimately vanish and respawn, so you have to run alllllll the way there and alllllll the way back for Every. Single. Can. GRARGH.
* The windows leading to the gas can in the apartment are too small - it's way too easy to become trapped in there.
* It's surprisingly easy to sometimes miss the fuel door and thereby end up accidentally tossing cans into the trunk of the car - where they're impossible to retrieve.
* In Single Player mode, things get much, much worse...
--- Bots can't retrieve gas cans or throw explosives - so crowd control is strictly the domain of the player, and you have to toss away your hard-earned gas can to do it, which can easily cost you that can due to either accidental stray fire or vanish-and-respawn.
--- Botnav isn't sufficient for them to follow you closely enough to cover you as you retrieve cans. (To be fair, I'm not sure this is something the map designer can actually fix, only compensate for.)
--- "Calm" periods with the Tank present - where human players can just keep dodging the Tank with all that space to work with and retrieve cans - are worthless with bots, because they (normally quite sensibly) try to take the Tank down as quickly as possible.
* And all of these issues come well before the incredibly frustrating gas pump explosions that occur seemingly at random and completely end any attempts right then and there. (Tho, to be fair, I understand that those will be patched in a future version)

Conclusion:

Rearrange the maps a bit so the first three maps become the first four, and rebalance the finale, and this becomes arguably the greatest campaign L4D1 has ever seen. But as it is, the long maps make it a tad problematic and the finale - while showing a tremendous amount of promise - proves ultimately to be freakishly unbalanced. I have very high hopes for the L4D2 version of this campaign.

This review was posted before the latest release.

Pros:

Lots of Easter eggs such as military base in Georgia and action 10 news. 

Fun side quests such as the open at your own risk door and the projector in the police station.

Nice long maps and lots of tanks

Cons:

May be to long of maps when you die you have to start ALL over again and it can get annoying. 





Conclusion:

A nice long tank filled adventure of awesomeness

This review was posted before the latest release.
End of results.