Iron Maiden Trooper Francis Body
About
Specs
Changelog
Reviews (2)
another heavy metal inspired skin from my heavy metal francis pack. chainmail and leather - custom normal for depth and leather luster. eddie eyes on back glow-in-the-dark. original chainmail texture by TopHATTwaffle PLEASE DO NOT REDISTRIBUTE, STEAL OR USE MY WORKS AS A BASE WITHOUT ASKING 1st.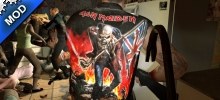 Last Updated:
06/29/12
Version:
1.1 (Complete)
Views:
14,341
Videos for Iron Maiden Trooper Francis Body
Be the first person to provide a video for this add-on!
Share Iron Maiden Trooper Francis Body
More addons by k1chwa