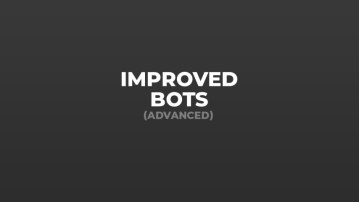 Improved Bots (Advanced)
You are downloading as a guest.
The extended gallery contains images from all community members.
SUMMARY
This addon makes several changes to bots to make them act more like human players and make them more reliable as teammates. They can use melee weapons, rescue you if you die, react quicker to a teammate being attacked by a special infected and much more. 



Note: While this addon does improve the bots, it doesn't make them perfect. There is no way for me to fix every issue with the bots, but I have improved them in the areas that are possible. I realize they still aren't ideal teammates. 


FEATURES
• Allows you to play versus, surivial, scavenge and realism modes in single player with bots. 
• Bots can use melee weapons. (Can be toggled) 
• Bots will continue to play after you have died instead of ending the game. 
• Bots will react much faster to a player being attacked by a special zombie. 
• Bots can perform some simple actions, such as closing safe room doors. 
• Bots will move around a player instead of shooting through them. 
• Bots are much more likely to save their first aid kits for a player. 
• Bots will try to stay in a tighter group with the player. 
• Control the bots with a few commands. (Press ALT) 
• Easily change the map and game mode while in-game. (Press F1) 
• Easily take control of another bot anytime during a game. (Press F2) 
• Easily change the difficulty of the game at any time. (Press F3) 
• Teleport bots back to you if they get lost or stuck. (Press ALT) 


NOTES
• Works for all official game modes. 
• This addon overwrites binds for keys: ALT, F1, F2, F3, F5, F6 
• Scripts in your autoexec.cfg file will overwrite this addon's settings, if you want to set custom binds. 
• Using bot commands will block Steam achievements for the rest of the campaign you're playing. 
• The bot commands won't work on unofficial maps unless they're started through the console. 
• Console commands if you don't have F-keys: bots_radial, maps_radial, char_radial, diff_radial 
• Other console commands: cycle_chars, bots_toggle_move, bots_toggle_fire 
• This version of the addon is ideal for single player. 


SUPPORT
I try to offer quick support for all of my addons. If you have any issues or questions, please post a comment and I will respond as soon as I can.
=========
May 18, 2013
=========

• Achievements are no longer disabled by default. They will only be disabled after you use a bot command.

File Details
Improved Bots - A...
(38.2 KB)
View Changelog
Version 3.0 Complete