Reviews for Niko Bellic (Nick)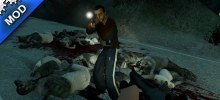 Niko Bellic (Nick) Review

I tired this out and liked it a lot.  The reason it doesn't garner 5 stars in simply due to the lack of facial animation.  Very good otherwise though.

Pros:

Cool
Niko Bellic ftw

Cons:

Fps arms are a little... you know.

Conclusion:

Have you seen the addon for Garry's mod called "Niko and Roman player models"? if you have, it would be cool if you used that model (the player model on the left, with default clothes). You don't need too. Or something... Anyway, I like this.

Pros:

good looking

fps arms

no bugs

Cons:

he shot me in the head

Conclusion:

im dead because he shot me and you did a good job!
End of results.