Reviews for Rusty Crowbar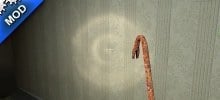 Pros:

-only crowbar skin on website

-rust skin

-looks nice whit blood

Cons:

-it not really a con its a just a question: the slash color (when u attack whit it) still the default. its unchangeble or u forget about it?

Conclusion:

very nice mod 10/10 

suggestion: can u make more crowbar skins, replacements? like militry skin or rake, hammer replacement etc.
End of results.