Reviews for Tactical MSBS Radon 5.56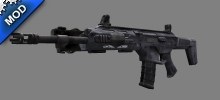 Pros:

Amazing Textures
Not Chunky
Reloading is sweet
Perfect for AK47

Cons:

Maybe a better fire sound for the gun, hate to hear a different gun fire out of an MSBS

Conclusion:

Overall the Gun is awesome, i have been using it practically half the time i play Left 4 Dead, but maybe, not taking off any points for this, but it would be awesome if somehow you find a way to improve, by, i dont know, adding attachments of a sort, maybe a scope for Deco, i dont know. But the gun is awesome, THATS ALL.

Pros:

- New reload animation
- Detailed grey skin
- highly detailed

Cons:

- no new shot sound


Conclusion:

Overall a good weapon, but the same shot sound form AK47 is misplaced and makes the weapon boring. 

Pros:

+ Gorgeous 
+ Finally, a weapon that replaces the AK47
+ Details are really great

Cons:

- ...

Conclusion:

This is awesome! I asked someone to create an ACR weapon as a request and it came true!

Pros:

-Simplistic awesomeness.

-Fits the gun quite well and is a nice change from the default textures.

-These textures take up much less space, I don't know what was wrong with the old ones, maybe BC just didn't compress them well enough or what.

Cons:

-More of a suggestion than a con, it could use just a bit more contrast. Maybe make the body slightly darker and the different colored parts like the ejection port and the mag release slightly lighter, other than that it's perfect.

Conclusion:

Very well done for such a short time. And congratulations on making a skin good enough to get more views and downloads then my original release.
End of results.