Reviews for HD | Ammo Boxes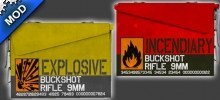 Pros:

 - Looks good.
 - A nice change.
 - Clear to spot and differentiate.

Cons:

 - A bit bright and clean?

Conclusion:

Pretty straightforward. They look good and sharp.
Maybe a bit on the bright and clean side, but at least they show well and are easier to tell apart in this dark game.
Perhaps there could be multiple versions and colors for people to choose from.
Very nice if you're looking for a bit of a change in the game.

And also this one "conflicts" with some of the other Funreal mods.

I like the fact that it's bright.  It becomes much easier to see on realism and brightness all the way down.
End of results.