Reviews for H&K G3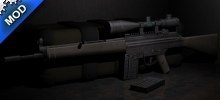 Pros:

Good model and world model
Animations on the gun are nice, alot better than most sniper skins.
Overall nice weapon and recommended.

Cons:

The gun's angle is a bit off with the crosshair, making it look like the gun is pointing alot lower than the crosshair mark.
The bullets look like they are angling upwards when firing.

Conclusion:

Recommended weapon skin. Nice job.

Pros:

-Great textures
-Nice animations
-Good attachment points
-DAT scope

Cons:

-None

Conclusion:

It may not have a HUD icon but I don't care. This mod works and looks great. Thanks for this. I am loving the military sniper now.

This review was posted before the latest release.
End of results.