Reviews for Soarin(Wonderbolt) Silenced SMG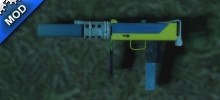 Pros:

- Very colorful
- Nice design
- It feels awesome


Cons:

- The only con here is the random green strap handle 
but I guess thats my opinion. ( - 0 )

Conclusion:

For being so simple I really like the color and the design.

This review was posted before the latest release.
End of results.