Reviews for Weird Foreign Vending Machines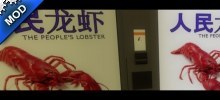 Pros:

I think the lobster vending machines are wonderful (although I dunno if it exist)

Cons:

I just want the lobster and maybe those two machines can remain the same.

Conclusion:

Anyway, I think this is amazing and I think it is good to turn the vending machine in picture 2 into the guns vending machine in Dead Rising 2.
End of results.