Reviews for FNP45 Pistols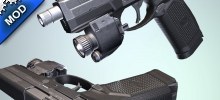 Pros:

- Look Fantastic!
- Smooth animations
- The same gun!
- Makes me want to use pistols

Cons:

- This area isn't necessary today

Conclusion:

Amazing work!

Pros:

Detailed textures
Good animations
Badass guns

Cons:

None

Conclusion:

Love it! A version with a two-tone chrome slide would be absolute perfection...

Pros:

Animations are smooth
Textures are well done
Weapons have proper trademarks

Cons:

None

Conclusion:

If you're tired of the Glock and Sig combo, this is a great replacement!

Pros:

Best pistols ever
Best animations ever
Best sounds ever

Cons:

What are cons?

Conclusion:

This will replace the glocks I used to use. I would love it even more if the barrel didn't protrude from the end of the gun (as in a flat muzzle).
Even more epic is if you made a dual set using this as the right hand and the glock as the left hand gun. But I leave that up to you

Pros:

It's an FN FNP!
High quality!
Perfect animations
Made by the same company that gives you the SCAR Assault Rifle!

Cons:

Why should I say anything bad about it?!

Conclusion:

A very high quality piece of work. Everyone should have one of these!

Pros:

+ incredible high res-textures
+ as always awesome animations
+ makes one like its holding the real gun
+ nice sound


Cons:

they are simple pistols(still this con dont count)



Conclusion:

as i said they are just pistols but no matter what im gonna use these babies a long time.
a outstanding work of you all really really thank you.
End of results.