Reviews for Pro C4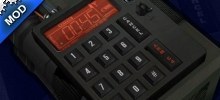 Pros:

- it looks way better than stock pipe bomb
- more realistic
- not that easy to spot (it's a pro for me!!)

Cons:

- sound gets messed up sometimes

Conclusion:

My current replacement for the pipe bomb. I love the looks and the custom sound. But sometimes the sound gets messed up and this is pretty annoying...

Pros:

nice model
nice sounds

Cons:

no custom icon

Conclusion:

This skin is just awesome, but it would be nice if it had a custom icon.

Pros:

-Nice model.
-Size is perfect.
-Different sounds.


Cons:

-Sound quality gets very poor when the bomb is going to blow.

Conclusion:

If the sounds are fixed, this will be my permanent pipe bomb replacement.
End of results.