Reviews for Spas 12 - Folded Stock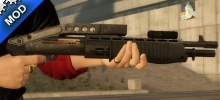 Pros:

Amazing Model
Great Textures
Classic white HUD Icon
No Bugs



Cons:

Uses Arby's old Auto Shotgun animations, not the dark friendly animations

Conclusion:

Not not much to say other than "it's good and you should download it." The 2nd nicest SPAS I've ever seen for L4D2.
End of results.