Reviews for Metallica in concert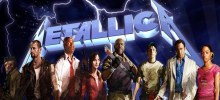 Pros:

-Metallica
-Good choice of songs
-Good song interchange
-Base volume is neither too high or low
-Posters are customised
-Concert background and stage are now Metallica themed

Cons:

-Saferoom posters flash by too fast and can hurt the eyes if looked at too long

Conclusion:

It is by far one of the best concert mods out there. Any fan of Metallica will enjoy this mod.
End of results.