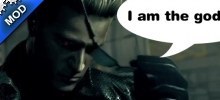 voicepack for Albert Wesker
You are downloading as a guest.
The extended gallery contains images from all community members.
voicepack for wesker replace coach.  it almost perfectly.(713 sentences in it)
you should rename wesker.vpk to .rar and open it . delete all of coach's voice folder and use this to instead . don't forget rebuildaudiocache.
coach's movement is so bad to wesker , so i change it to nick . make sure both you and the host have 'coach's movement  change to nick.vpk' together, or one

 of you will see wesker(coach) become a scarecrow. you also can disable it before you join a net game.
oh shit it take my days... i spend too much time to do this !!
the next voice mod will be UniBlackheart 's Neptune
Pros:

- One of my favorite videogame characters of all time.
- Love the voices, they match really well to what he really would say to them.
- Has a hud and icon with it (Very Nice)
- Also its funny when saying the voice command "Ready" he will say "I am a God" and the survivors would reply saying "Yes" lol :D
- Coach walk is changed to Nick (In my opinion, he looks better with Nick's walk)

Cons:

- Some of the voice lines are shorter then the full thing (Noise cuts out)
- Sounds make weird noise after the commands sometimes (Like a zombie scream thing..).
- No voices for "Argh" command
- The "Yes" command has him saying yes but with the deepest voice I've ever heard :P. Would be better in my opinion if he replied "Affirmative". 

Conclusion:

Honestly this is just great. It is a little annoying to replace the voice sounds being afraid you might delete something on accident but it is a great addition to the Wesker mod for Coach. It is pretty much the finish of the other mod. It would be nice (Not saying you have to) if you updated the voice commands for Really Deep Voice Yes to be Affirmative or maybe even his laugh. That's just what I would do to make it better. Anyways, "Good Work" lol :D Great mod!
File Details
View Changelog
Version 1.0 Complete