Reviews for XM8 (SG552)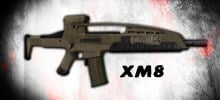 Pros:

+very detailed
+ my all time favorite assault rifle
+ i ve been waiting for someone to do this for years now(the ones we had were without scope)

Cons:

- flashlight is ridiculously big
- transperent mag is way too transparent

Conclusion:

Must have! I really hope and also pray the author does this weapon for m16 and that him or somebody else makes different color versions of it.

This review was posted before the latest release.
End of results.