Reviews for S.T.A.L.K.E.R. RP-74 (AK47)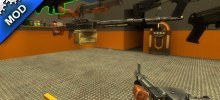 Pros:

Real nice looking.
Smooth.
Easily noticeable.
Its Russian baby.

Cons:

I would´ve liked the sounds back on instead of having to go find them, but that´s just me.

Conclusion:

It´s real nice, the hands bug sometimes though, (might be because the ak is not meant to be an LMG but w-e). Otherwise, nice job dude.
End of results.