Reviews for hide hud(G.U.I/UI)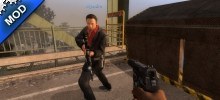 Pros:

love it 10/10
great for me, the hardcore player. lol

Cons:

nothing.

Conclusion:

could you make a version where it turns off glows and names? That would be awsome

Pros:

-Great for Realism.
-Actually works without cheats.
-Works great, no problems.


Cons:

-Can't hide the crosshair, but won't dock knowing how hard it might be, and just use crosshair 0.

Conclusion:

This mod works flawlessly if your trying to play realism with actual realism; I really wish there was some way to add crosshair 0 into your mod, unless there is a way to move the crosshair. 
End of results.