Reviews for TankFever1 Forever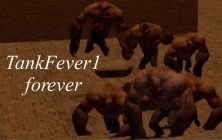 Pros:

-lots of junk at the beginning
-just the right amount of supplies scattered throughout the map

Cons:

-too big 
-not enough enemies
-i only ran into one tank
-bad bot navigation (would not go into helecopter)
-campaign with only one map.

Conclusion:

I always encourage people to keep modding. I did enjoy this map and practice will only make you better :)

Pros:

Alot of Tanks
Challenging Map
Fun to play with friends

Cons:

Useless to play with bots
Black and purple sky texture
Sometimes the bots won't pick weapons

Conclusion:

This map is best to play with friends cause bots just dies fast.

Pros:

Very Intense.

Very fun to play with friends.

Challenging even for experienced players.

Cons:

AI are pretty much useless to play with.  They usually die very early on, making it that much more difficult to deal with CI as well as several tanks. (PLAY WITH FRIENDS)

Very basic in design, but that's really not a huge issue.

Nothing else comes to mind.

Conclusion:

Pros FAR outweigh the Cons on this.  I've gone back to this map a few times with friends and had a blast each time.
Not recommended for beginners.

Pros:

TANKS, TANKS EVERYWHERE

Nice skybox.
Large map, lots of different ways to play.
Lots of weapons and supplies (some randomized) at spawn.
No specials other than tanks. (to my knowledge)
Feels like survival but is actually a campaign.
Helicopter Rescue.

Cons:

Not many dedicated servers - if any. (Not your fault, no points deducted)
Bots aren't the best teammates (also not your fault)
The landscape is a bit boring/repetitive, would be a lot better in a realistic enviroment.
Common infected sometimes cause issues for those who just want to fight tanks.

Conclusion:

Great map, could be improved but doesn't need to be, very fun to play with friends.

Pros:

Oh, the thrill of being chased by so many tanks at once :P 
Very fun, but only if you play with others!

Cons:

Bots are totally useless! Don't play alone!!

Conclusion:

Well that's about it :P

Pros:

• Tanks
• Fun in it's simplicity
• Good supplies
• Tanks
• Closets
• Oh, and tanks

Cons:

• Bots
• Common zombies
• It might just be me, but I swear Zoey's animations are broken on this

Conclusion:

Good fun. Something that should be played with friends and not bots. 

Pros:

a lot of tanks !
lots of well placed  supplies
wide, fun and simple map,very suitable for the theme
fun as hell !
-- and there are just a few flaws...


Cons:

bots are goddamn idiot
******common zombie spawn
and special infected spawn (well if you press the button early, then it  isnt a problem but , i think you should turn these off entirely)


Conclusion:

Well it's not good, it is excellent !  Great one,  i played lots of custom maps, but this is really cool. And if you wanna make it perfect, just go turn those stuff off, bots aint important, coz it is much more fun if you play with your friends.

Pros:

Fun
Gets me pumped
Rare
Something so simple can be so FUN!
Tanks
Plenty of supplies
Closets

Cons:

Impossible for bots

Conclusion:

It is very fun with friends and recommend with friends because with bots, you are screwed to hell! haha, great job, Maybe a jockey map or something of the sorts.

Pros:

Fairly simple. Evade tanks and try to survive.

Cons:

..What cons?

Conclusion:

Overall great maps. I will DL all of them.

Pros:

Not an impossible map
New style of play like survival but quicker
Gets you pumped just like a game should

Cons:

Chopper fly's through buildings at end
Some Tanks get randomly stuck (but don't worry there are still plenty more)

Conclusion:

2 + bots You are pretty much screwed 
3 + bot You have a chance but very difficult
4 players is the way to go takes less times to win and taking it to the next level of difficulty is a bit easier

Overall I have played this map about 60 times now and it hasn't got boring yet   

Edit:
Our team beat it on normal realism 
I also be it on easy by my self and also on mutation when they only give you a desert eagle 

Pros:

It gets your adrenaline going which is pretty rare in l4d2.
just all over awesome and difficult even on easy.
close to impossible as it will get.

Cons:

to awesome to have cons

Conclusion:

my team of 3 + 1 bot managed to beat it after 30-40 attempts. takes 11 minutes about for the chopper to come and my teammate held out till 14 minutes and beat it. and this was on easy. 
End of results.