Reviews for Dead Venue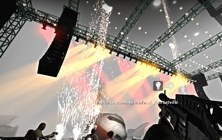 Nice little map

PROS
- Midnight riders!
- Plenty of space in finale area
- Plenty of guns
- Clear where rescue is


CONS
- Rescue bus is sooo slow xD

OVERALL
Nice little map, no real glitches troubles

Pros:

Different midnight riders song
Uniquely placed plane crash
Enjoyable scenery



Cons:

Could not find where to be rescued
If you miss out on the small room just before heading down to the arena floor. You will not be rescued. 


Conclusion:

I enjoyed this map all the way until it said the rescue had arrived. I ran around for over 10 minutes trying to figure out where to go. Very frustrating and could have been a lot clearer as I just quit eventually because it was that annoying. 

EDIT: I have played through once again and I was quite displeased to know I missed something vital. 
The fact that you must go into the small room before going down to the arena floor in order to get rescued needs to be made a Lot clearer. If you miss it out, you Cannot escape. 

Pros:

Original campaign with a different view to show the left, is better than the end of that year.
Uniquely plane crash and rescue.
Lindos some sectors of the map. 

Cons:

The plane crash is very silly, the ground is flat and does not correspond to a plane crash, the place looks as if the accident fence was old, when in fact only just begun the adventure occurs.
Bar area very drab and dowdy, it should have more tables and chairs and even a turntable.
Some areas very monotonous.
In the end, no kits, and variety of weapons, one music and then silence, then petrol bombs, or bile boomer.
The bus delivers us a look that "flies", rather than walk out, it goes very fast even for a bus racing.
Some special zombies get stuck in the hedges. 

Conclusion:

Conclusion is a campaign with a very original and different from the fair left, is very nice that there are "expanded" the end of the show and changed it beyond redemption.
But as I said many bad points overshadow the map.
There are almost no things to do is just run like a fool with nothing to do, point of panic too poor, too predecidles, part of the bar without encouragement, end very boring, no music, and then only a silent, little plane crash realistic soil without fractures?.
Not there variety of weapons, or kits?.
Would have to add more events to panic or things to do, more furniture, ammunition and medical kits.
The campaign is somewhat monotonous and very boring, too predecidle and the end despite being original is very brief and does nothing.
Sorry for my bad English.

This review was posted before the latest release.

Pros:

Some of the details are very nice
Simple, but nice design
Navigation seems to work just fine
New rescue

Creative ideas
Good weapon placement


Cons:

Panic events are way too easy - no challange at all

Too flat at the plane crash area
Special infected sometimes get stuck at fences


Conclusion:

Second review and I have to say you fixed most of the cons mentioned.

Its a very fun map to play with creative ideas and simple but still good layout and design.

Some of the cons still remains thought.
Panic events are no challange, too flat at the plane crash and specials get stuck sometimes. 



This review was posted before the latest release.
End of results.