Reviews for Mad-Max Ellis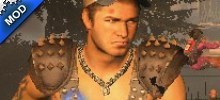 Pros:

-he shows awesome
-better then original
-cool look

Cons:

-none

Conclusion:

On of the best Ellis Skin mod i have ever seen :) Maybe you can make more mods like this? :)

Pros:

First-person hands
Better-looking than the original skin by A LOT

Cons:

No Cons I can think of.

Conclusion:

You did really good on the skin. Great work.

Pros:

Armored
Facial movement, eyes, etc.
First person arms changed.

Cons:

The tattoo bothers me. -3 points
The nakedness of this skin. -6 points.

Conclusion:

One of the best skins for Ellis if you don't play with a bunch of immature people.
End of results.