Reviews for Casshern - (replaces Nick)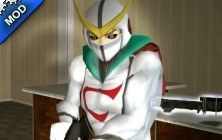 Pros:

-Looks really nice
-Casshern fits the post-apocalypse setting really well.

Cons:

-Some model issues on some servers
-Needs the arms in first-person view
-Why are his eyes black? They should be all green, right?

Conclusion:

Not bad. I'm using this right now. I hope the first-person arm thing gets fixed soon. 
End of results.