Reviews for Nightstalker Berettas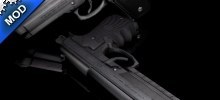 Pros:

Awesome skin
different guns skins


Cons:

laser makes the right gun look silly
guns are a little bobby ( too much bobbing)

Conclusion:

good guns, but bobbing and laser are not good, but still great. =)

Pros:

The sound is great
Looks amazing
Does not look fake

Cons:

None

Conclusion:

I have been using these for awhile. I have not seen any other pistols skin as cool as this. 

Pros:

-Great detail, very clean and aesthetically pleasing. 
-New sounds are awesome

Cons:

-None as far as I can tell

Conclusion:

A worthy download and a giant step up from the default L4D2 pistols. I highly recommend this mod.

Pros:

Very nice and clean looking overall

Custom look is bold and yet not too outrageous



Cons:

It's something personal really, I don't like asymmetry (i.e dual wielding two completely different weapons), it's not your fault 

Conclusion:

All in all a great skin, maybe you can give the option for dual wielding the compensated pistol. I was wondering about another one of your skins for CSS, could you do the modifications necessary for the Grammarton Clerics' Berettas to appear as either a pistol reskin or an smg replacement for the Uzi because that skin looks totally awesome? (if it isn't too much work for you)

Pros:

-Realistic
-Laser
-Torch
-Impressive Gun

Cons:

-None

Conclusion:

This Weapons Is Very Realistic And Awsome Fit As Laser As A Default Pistol

This review was posted before the latest release.

Pros:

Two seperate guns
Laser sight
No flashlight (makes it look cooler)

Cons:

Are there any? XD

Conclusion:

In the end, I here by Judge this weapon with a perfect 100

This review was posted before the latest release.

Pros:

-Built in laser sight
-Compensator if you have 2 pistols
-NO dumb@ss flashlight thing on the bottom
-i actually dont use melee weapons anymore thanx to  you
-Nice sound

Cons:

-looks kinda plastic
-the sound when you pull them out and it normally clicks, it sounds like a voice or a loud beep or something

Conclusion:

very impressive mod, probably my favorite pistol mod for right now. Ironically enough i had literally JUST finished testing and downloading another M9 mod released today then i check back on the website and see this and all i could think was: OH. MY. GOD. this is amazing

This review was posted before the latest release.

Pros:

+ Great guns.
+ Laser sight is amazing.
+ GREAT, great sounds.

Cons:

- I have to think before I pick up a melee weapon!

Conclusion:

This is my favorite pistol mod right now. I have a question, though... You have a sound mod for the other guns, and such. Does that mod interfere with this mods sound? Just wondering, because I'm thinking of getting that too.

This review was posted before the latest release.
End of results.