Reviews for Leather Coat Grey Red Zoey Body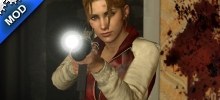 Pros:

-Gives Zoey some character, compared to her nondescript red jacket; tasteful redesign
-Doesn't completely rewrite the original character design (it's like the base model, but better)
-Custom normal really does look like leather (assuming high enough settings are applied)

Cons:

None

Conclusion:

This is by far my favorite Zoey skin. To date, I have not used another one, before or since, and there's really no need to. 10/10 for a kickass mod. 
End of results.