Reviews for Female Scout (Rochelle)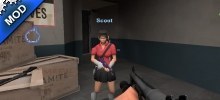 Pros:

Fps Arms
Lobby Pic
Custom Name
Great mod for TF2 fans.


Cons:

Lighting is HORRIBLE, on the models face.
Fps arms are glitchy
Legs are broken, but not very noticable

Conclusion:

If the lighting of the face was fixed this would be a great mod.

Pros:

-Looks great.
-Works fine.
-Good FPS arms as always.

Cons:

-The thing with the feet.

Conclusion:

A fun mod that completes the TF2 team. Also goes well with the male scout mod.

This review was posted before the latest release.
End of results.