Reviews for Pyro (Coach)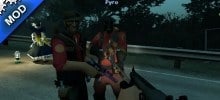 Pros:

its pyro
hes epic of course
hudda hada!!!!
good textures 
HUD 
fps arms


Cons:

FPS arms could be better (0 off)
the shoulders and neck are severely deformed (1.5 off)

Conclusion:

a great mod i use it so its good man like all your other mods!

Pros:

-Works fine.
-FPS arms.
-Hudda, hudda!

Cons:

-For some reason the shoulders stick upwards, but it's not major.

Conclusion:

Yet another addition to the TF2 character mods. Looking forward to medic!
End of results.