Reviews for Delux Halo HUD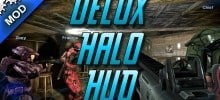 Pros:

Looks awesome,
A new feel to the game, especially fun to use on Hidden Infected (TTT) Mods.
Looks great with the other halo weapons, and titanfall ones,

Cons:

Fellow survivor panel may block buy/perks/menuselect options if your in a server that has one.

Conclusion:

I ****ING LOVE IT!!!! AND HOW WE CAN CUSTOMIZE THE CROSSHAIR TO LOOK MORE LIKE HALO........ 

(I'll give it a ten if I can move the survivor side panel thing.)

Pros:

Futuristic Overlay
Different huds for different gamemodes
working health bars 
static effect (next to health bar) when teamate is down
"Critcial Health" when you're downed



Cons:

conflicts with weapon and character mods(no points taken off)

Conclusion:

great overlay!
a nice replacement for the old helmet overlay I was using
keep up the good work
a 10/10 mod



This review was posted before the latest release.
End of results.