Reviews for monster skin for m16a2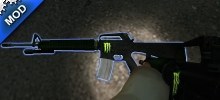 Pros:

-Not a camo overlay.

Cons:

-The Monster Logo is poorly cropped.
-Just a simple recolor. Nothing more.

Conclusion:

When pasting logos over the textures of the gun, do your best at cropping it, not the 5-second crop where the background can still be seen. It's a simple recolor; nothing more, nothing less.

This review was posted before the latest release.
End of results.