Reviews for Night Ops MP-44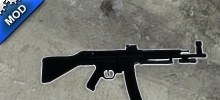 Pros:

Looks great- animations and textures
Sounds great
Perspective is spot on
It's different
It was in Wolfenstein

Cons:

The ironsight isn't perfect, but it took me a while to notice, its a tiny con

Conclusion:

Excellent, I always use this or the FN FAL mod for the AK

Pros:

it's german ww 2 weapon!
very cool
one of my fave weapons of all time
nice job

Cons:

maybe the rear site-no points off tho...

Conclusion:

really enjoy seing the ww2 weapons come to life on l4d2!!!
End of results.