Reviews for Lady Gaga shirt for Rochelle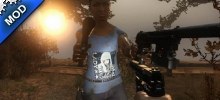 Pros:

Lady Gaga, which is either a pro or a con, depending on your viewpoint.
The skin looks good in game.
Cosmetic change, won't affect gameplay.

Cons:

A bit simple for my tastes *no points deducted*

Conclusion:

If you like Gaga, hit that download button, NOW.
End of results.