Reviews for Zoey Bent for Leather L4D2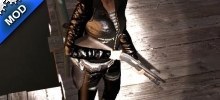 Pros:

+ Phong settings make it look like real leather
+ Black is a classic color, goes well with anything


Cons:

- Shader detail settings needs to be "Very High" in order for the phong to show, but no points deducted for this

Conclusion:

A must-have for leather lovers! With an adequate graphics card, you should be able to enjoy this mod. 
End of results.