Reviews for Leather Coat Black Rochelle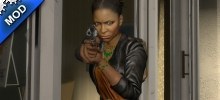 Pros:

- Nicely textured, an improvement over pajama911's version I think.
- Emphasizes on Rochelle's character & background a little better.
- Seems more like something she would wear as a reporter than a Depeche Mode band shirt :)

Cons:

- None that I've noticed.

Conclusion:

A great outfit for Rochelle, it's about time we got more re-skins like this than just character replacements.

Pros:

-Nice textures
-FPS arms
-New look for Ro
-Facial animations

Cons:

-None

Conclusion:

Nice  work as usual. Thanks for this. Would be nice to have a new hairstyle, but its cool since I know you don't work on models.
End of results.