Reviews for Kitchen knife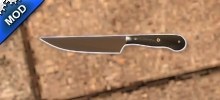 Pros:

- Looks pretty amazing in first person
- With the sound mod, sounds scary.. in a good way.


Cons:

- Nothing that bothers me!

Conclusion:

All in all, whenever I have to pick between my master sword katana, or this kitchen knife mod.. I go for the knife 90% of the time.. even when I play as Princess Zelda. xD 

Pros:

Good idea for a kitchen tool
Detailed handle
Fun to use 

Cons:

Buggy reflection effect on the blade -0.5
A little small when holding it on FPS -0.4

Conclusion:

Well . This is a nice replacement for the old machete . Have a good zombie hunting with this knife . But I agree with alpalia , a little bigger will be good for it to look more realistic and cooler .
End of results.