Reviews for Heaven & Hell Ellis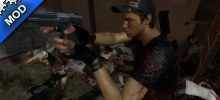 Pros:

- High quality textures
- Exceptionally well-done art
- Good balance between colors
- Great tattoos
- Very fitting for Ellis

Cons:

- I personally want the tattoos switched to opposite arms, but I won't take off points.

Conclusion:

Absolutely fantastic. I rarely come across a mod I keep for a significant amount of time. This is one that's going to stay in my library for a while.
End of results.