Reviews for Ak-47 - Beast Edition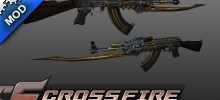 Pros:

Great AK Design
High Texture Quality
Excellent Model!
Sound CSS

Cons:

The glowing Flame at sides

Conclusion:

I love this model AK, nicely designed. The only thing I disliked is the flame on the sides. But beyond that, it's a great model!

Pros:

Model
Texture

Cons:

Arby's AK 47 animations.

Conclusion:

Ok, now, we need a version whitout custom animations. Seriously.
End of results.