Reviews for UZI with unfolded stock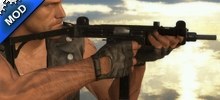 Pros:

-AWESOME SKIN AND ANIMATION!
-one of my idea to fold out stock
-too much awesome 
-shove animation is so bad ass

Cons:

-make me have to change from MP5 to this beautiful creature
-sound too much strong. too powerful for this one

Conclusion:

awesome work nothing to say but i have a good day good job bro


Pros:

- Well-made compile (no errors/bugs that I am capable of perceiving.)
- Great model
- Excellent skin
- HUD icon
- I like the animations more than the default ones
- Not a crossover, port, or exotic weapon
- Doesn't have missing textures like the UZI mod I was using before.

Cons:

- Had to remove script in case I wanted to play online, but that was easy. (-0.3)

-Custom sounds would be nice, but they're easy enough to find for yourself. (-0.0)

Conclusion:

Effectively, this replaces any SMG replacers I might have had before.

This review was posted before the latest release.
End of results.