Reviews for Silent Hill Chrome Pump Shotgun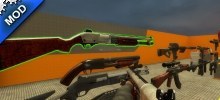 Wanted to Rate this Up

This is a great weapon reskin that includes a fantastic new sound for the chrome shotgun. No other mod to my knowledge does near as good a job at replacing the god-awful sound effect of the chrome shotgun as this. The look of it, with the cherry wood finish, is very nice as well. This is definitely worth the download to replace the chrome shotgun.

Pros:

Silent hill
Red wood furniture
Worn but not too worn metal
Sound is included

Cons:

None that i can see. 

Conclusion:

Awsome shotgun; pure awesome.

This review was posted before the latest release.
End of results.