Reviews for SG552-1 Commando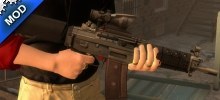 Pros:

Great model
White classic HUD
Scope, is one way of represent why the Scar have such accuracy
Player choice sounds (don't have, allow us to choose one)

Cons:

Wrong animations, if she tried to be realistic animation, is too smooth like the original Valve Animations

Conclusion:

Again, another amazing work Funreal! Is pretty obviously you are changing the all L4D2 armory (and apparently change with all SG55X rifles O_o), now us just have to wait for other, right? Keep your awesome work.
End of results.