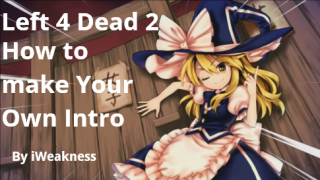 How to make your Own Intro in Left 4 Dead 2
Sharing is temporarily disabled
Step 1: Download RAD Tools
Before you Begin to make your Intro, I (Seriously) recommend you to download RAD tools which this thing can Convert Video formats into .bik Format but this Format is Really Important for replacing a L4D2 Intro
You can download it here!RAD TOOLS
If you already Have it, Just obviously skip this step
Step 2: Picking and Download your video to replace on the Intro
I know that Most of the videos that you picked is obviously from YouTube. To Download Videos Easily I suggest you to use Clip Converter CC to Download any Videos into Video and Audio Formats. When Picking Quality, just Pick the Quality 360p or Higher to make the Intro Smoother. I think Converted Video with 360p or Lower into .bik format when replaced and start the game, you see the intro is diagonally sliced into pieces (360p has 50% Chance to happen),so be careful to choose the quality.
Step 3: Converting a Selected Video to Convert
Okay, I think this is the Last Step. Its time to Convert the Selected Video into .bik Format. Open RAD Tools (You can find it on the Desktop or the Directory of RAD Tools where you installed) then Pick the Video that You downloaded if you cant play or Convert it, just Rename the Video aaand Bam, Now you can Wait The Convertion time may took Longer and The File Size may be big depending on File Size. If its done, Rename the Original L4D2 Intro incase of Backing it up and Copy-Paste the .bik Video in (L4D2 Directory)\left4dead2\media then Test the Intro. If it worked, you can now release it on Gamemaps. If it was Diagonally sliced, Repeat step 2 and try to download better Quality.
Releasing them on Gamemaps
Extract the File using Winrar or 7zip,then you can now upload it on Gamemaps.. That's simple as that.
Please leave a "Yes" if helped I really appreciate it
Leave a Comment for Feedback or you need help to fix the problem.