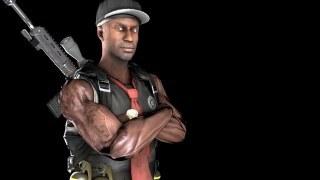 Fiddy Louis
You are downloading as a guest.
The extended gallery contains images from all community members.
Love & hate,
Joy & pain,
War & peace,
Sun & the rain,
Sugar & spice,
And everything nice.


That's what Louis is made of.

YO FIDDY WHERE MAH PILLS AT?!

Louis has long lived a secret second life from his days at the IT offices. In reality he is known as Dirk Iron, a tactical genius that fought in Vietnam alongside his crew B.A. Coach, Face Man Nick, and Howlin' Mad Ellis. Their roller-coaster ride of colorful and TV-style commando operations had been put to an end when they were framed for the theft of the Vietnamese Royal Family heirloom, the Crystal Pills, by the dastardly, bastardly, Colonel Chocolate, Louis' nefarious evil twin brother.

Ten years ago that crack commando unit was sent to prison by a military court for the crime they didn't commit. Those men promptly escaped from a maximum security stockade to the Savannah underground. Today still wanted by the government, spearheaded by the vindictive Officer Francis, they survive as soldiers of fortune to aid those abused by the system, all the whilst on their journey to recover the Crystal Pills and clear their names.

If you have a problem,

If no one else can help,

And if you can find them,

Maybe you can hire..

The L-Unit.


Louis as Fiddy Louis, aka L-Unit
aka Louisignificant, aka Big-Dick Louis G, now stylin' and profilin' in the getup of 50 Cent as seen in the game 50 Cent: Blood on the Sand, which I bought specifically to rip this model. What I don't do for my work..


Compiled on NaoJM's Louis adjusted animations and Arby's first-person hand improvements.

If you notice any problems, apart from the obvious that is Louis dressed as 50 Cent, please let me know. Should it not take too hard a hit to my precious, fragile ego I will attempt to fix it up.


Credits/Thanks:

50 Cent: Blood on the Sand – Outfit Model & Textures
Counterstrike: Global Offensive – Grenade Model & Textures

K1chwa – Gold texture warp shader

Arby26 – Louis hand rig
NoaJM – Modified Louis animation data
Lt. Rocky – Model rip; Rig; Compile; Materials
02/12/15
========

-Added procedural bones
-Fixed bad jigglebone movement in tie
-Adjusted grenade jigglebones

Pros:

I guess the rigging is okay?

Cons:

head doesn't fit with the body
body is really just bad in-general
I personally don't like retail Louis, but that's my opinion.

Conclusion:

its bad

This review was posted before the latest release.
File Details
View Changelog
Version 1.1 Complete