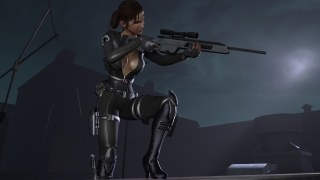 Secret Agent Zoey (Geared Version)
You are downloading as a guest.
The extended gallery contains images from all community members.
Bill's been giving his girl some special training. Doesn't necessarily explain where the fancy suit came from, but it certainly justifies the new level of expertise everyone's favourite girl has achieved. 

Strong independent woman! Don the Suit of Curves & Inexplicably Combat-Ready High Heels and kicketh some shamblin' muffuckers in the teeth! 



I hope Francis doesn't hate latex. Or boobs. 

Most college girls like to kill time with things like craftsmen ship, sports teams, art drawings or just good old fashion video games. 

Zoey meanwhile, she kills time by actually killing people! Mere basketball and clay sculpting is not enough to satisfy the cravings of this woman! With a nice suit, some stylish leather boots, a long rifle and some delicious, bouncy chest-squishies she'll be off to kill the leader of a destabilizing nation, ensure a successful Coup d'état for its people and be back in time to ace the finals and catch up on The Wire. 

'Cause that's college life, baby! Or at least that's what it can feel like at times...christ. 


Its Zoey! Wearing the suit whats-her-name wore in Resident Evil 5, remodeled and retextured by mosx2 as seen in his New Vegas to resemble that of Black Widow, that chick from the Marvel world who's been something of an undeserved side character in all those recent Disney films, who I imagine looks at regular jeans and sweaters with a right middle finger and goes back to her daily life of jumping out exploding helicopters and simultaneously putting up with Chris Evans' professional dweeb and Samuel Jacksons'...Sameul Jackson-ness. 

First person hands are compiled on Arby26's L4D1 hand fix. 

Credits/Thanks: 

Resident Evil 5 - Suit base model; Attachments model & textures 
Insurgency 2 - Smoke bomb model & textures 
Half-Life 2 - Grenade model & textures 

mosx2 Original Fallout: New Vegas rig & compile; Suit retexture; Mesh Edits; Skin model editing 
Thaumx - Skin texture & original model 
Arby26 - Zoey hand rig 
Lt. Rocky - L4d2 rig & compile; Mesh edits; Materials; Exponent/ENV 
01/22/15
========

-Reduced unnatural vertex animations in lip area
-Further weakened the visual seam between her neck and collar


Pros:

+Looks Great
+Actually works well
+A decent Zoey skin

Cons:

-When holding an axe her arm kind of breaks....

Conclusion:

All in all, really good skin, I don't have many issues with it, the axe shows up in her hands and it looks awesome. It's so well put together I'm going to be using this skin for a long time. The only issue is 1st person view when I'm holding an axe her left arm shows up on the side....and when i melee the arm seems higher up....other than that, it's perfect

This review was posted before the latest release.
File Details
secretagentzoeyge...
(26.8 MB)
View Changelog
Version 1.1 Complete