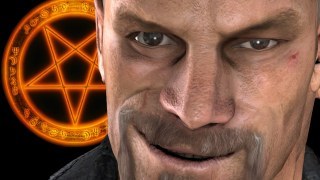 Painkiller Francis
You are downloading as a guest.
The extended gallery contains images from all community members.
Rivers of madness,
Are flowing through his veins.
Ain't no forgiveness,
For all he's got is pain.
He'll never surrender,
He'll never give in.


He's the defender,
And he's gonna kill to win.
He's the law of steel,
Doom's unkindled king.
Shit's about to get real,
FOR HE

HATES

EVERYTHING!*
*'Cept vests

He's an angel with a shotgun, fighting 'till the war's won, and he don't give a damn if heaven don't take him back! He's hiding his wings of blessed to embark upon the long journey of the Psycho Crusade(tm) against the eldritch condemned. The hordes close in with each monster larger than the next, and he only wisps a cocky smile and a pump of the shotgun. Battle will rage like the fires of Hell, and God as his witness he's gonna buck, blast, gore and gib his way through the legions of Hell's Iron Maiden album cover monsters, one crimson-stained shell at a time, like a bullet-riddled Mortal Kombat Fatality montage video spliced in with the 15 minutes of the good parts from the movie Dragon Wars. Death is coming? Its already arrived; THE PAINKILLER COMETH.

And the pain will find you.


Its Francis! With a tight new pair of threads! He's sporting the vest of Daniel Garner, the protagonist of the most metal game of all time - lemme tell you son, Weaponlord and Brutal Legend ain't got shit on the Painkiller. Show me a game more metal than Painkiller and I'll show you hateful lies. Daniel Garner's such a badass they had to have him voiced by the guy that voices Duke Nukem in the HD remake. He makes Brutal Legend protagonist Eddie Riggs look like the protagonist of Ride to Hell: Retribution.

And now Francis dons the robes of that very Angel of Badass. Enjoy.


Compiled on NoaJM's fixed Francis animations and Arby's fixed L4d1 survivor hands.

Credits:

Painkiller: Hell & Damnation - Model & Texture

Arby26 - Francis hand rig
NoaJM - Modified Francis animation data
Lt. Rocky - Compile; Rig work; Texture edits; Material shading; Firing shurikens & lightning
02/06/15
========

-Added procedural bones
-Re-weighted first person model
-Removed exponent map; made several phong adjustments

File Details
painkiller franci...
(8.5 MB)
View Changelog
Version 1.1 Complete